"Cole's paintings are devoted to a remarkable presence of absence. The London streets she has painted, the rooms at Charleston, the Marylebone shops, the imaginary interiors of the collectors of real paintings and sculpture –with their massively empty chairs – all shout out with a human presence that is not there. Even her rooftops show empty ladders, as if they were an obstacle course for acrobats. These interiors are well-used, reeking of a lifetime of touching and placing, of someone looking fondly at the paintings-within-a-painting. But everyone has now left, and they are anyway a bit old-fashioned in design, as if in looking at her rooms we were returning to a house some time after its owners had moved on.
But this mourning of absence is overwhelmed by the loving colour. There are many colours still to be invented, just in the gaps between those already created from artist's pigments, and Cole possesses an evidently instinctive visual skill in finding those slightly culinary shades of pleasure. And her feeling for space and light fills up the rich patterns of her inventions, as if they were all really there before our eyes. One of her paintings on a wall of our own house would point to a revived space from the past, containing the works of art, which like hers, reward with their infinite life."
- David Fraser Jenkins, Curator
Cole's paintings reflect her interest in Art History, provenance and the role women have played in both. She regularly looks to women artists & collectors of the past for affirmation, guidance and inspiration. She paints homes, not least because they are a realm of women, an area unlike most others where they are authored by women. Though people are rarely seen inside in her paintings, she believes the domestic interior contains considerable biography & human emotion from grief to celebration seen through the objects on the mantlepiece or the paintings on the wall.
The Eileen Gray Chair Series looked at Gray's work as a furniture designer and then paired her chairs either with other artists admired or symbols which echo themes of motherhood and fertility.
Her recent series of paintings of people place the subjects outside of the context of rooms and explore close family relationships - motherhood, daughterhood and sibling relationships.
While there is an obvious preoccupation with content in the pictures focus is given to the emotional & poetical impact of colour and physicality of paint.
Cole works equally in oils as well as gouache & watercolour as they convey light and mass so readily.
Available paintings can be viewed at Long and Ryle just by Tate Britain.
In 2021 she was elected an Associate Member of the Royal Watercolour Society.
Opposite, Interior with Jessica Dismorr & Pansy Orchid (selected for Sunday Times Watercolour Competition 2019)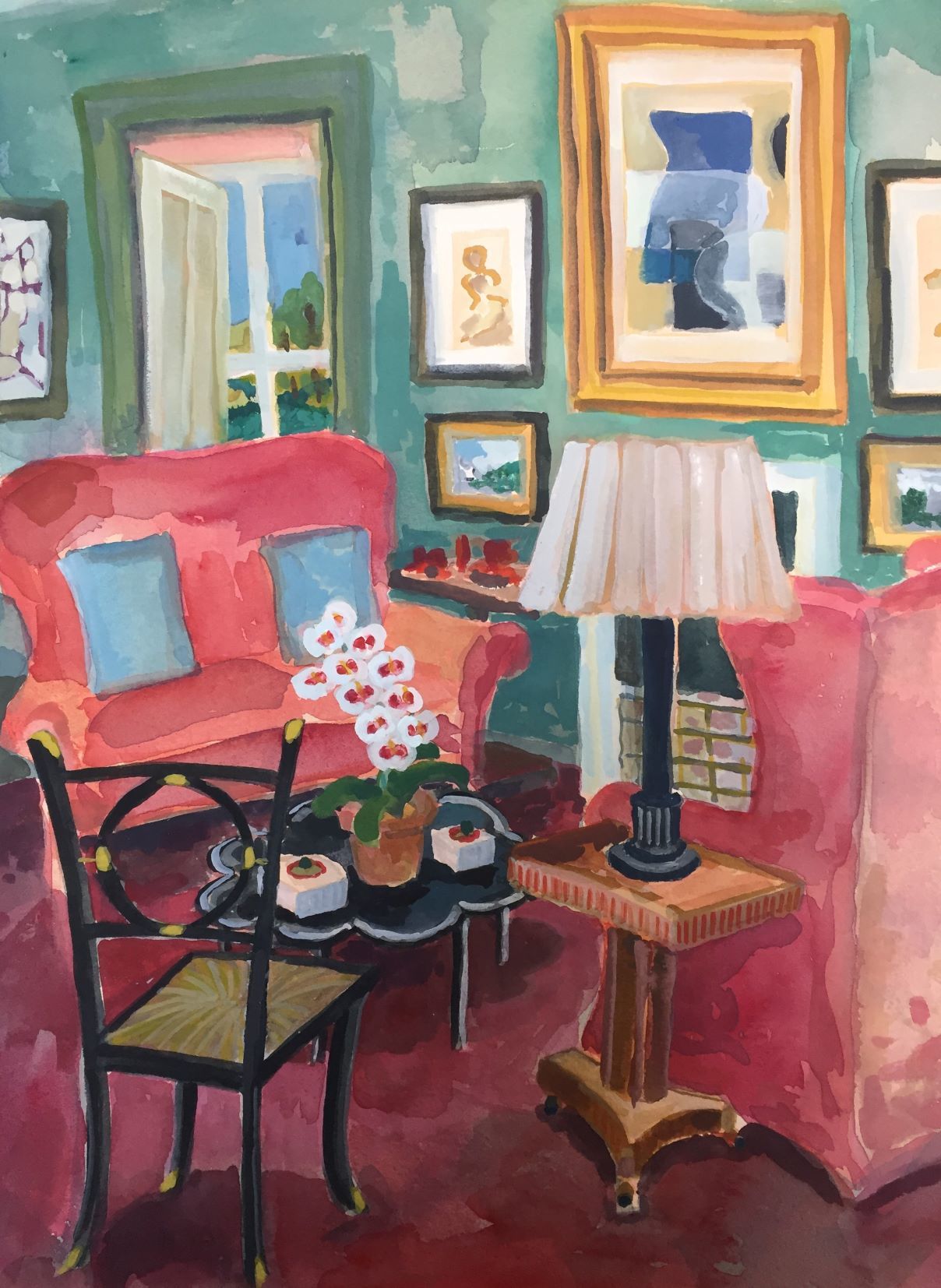 Interior with Jessica Dismorr
Interview with Lara Monro - November 2022
When did you become interested in painting and the scenes you depict?
I always wanted to paint and draw. I never played with toys, instead I played with colours. My introduction to painting came from an interest in documenting what was around me, what stimulated me visually. I would walk through Green Park to get to work and would take in everything I saw. I didn't feel like a painter of street scenes as such it was more an opportunity to observe. In the winter, for example, I would enjoy my evening walks home from work appreciating the opportunity to observe the well-lit interiors. My first job was at the National Portrait Gallery where I would spend long evenings managing events and could enjoy the rich and varied art historical works. On reflection I realise my time here inspired my pracitce, especially this idea of recording stories and making them relatable. I subsequently went on to work at Dulwich Picture Gallery, the London Library and RIBA, all of which inspired me for their archival stories and because they ignited my interest in exploring who was included within history and who was left out.
My connection to the Bloomsbury Group grew stronger when I came across their work at the London Library, a unique space with so much visual stimulation. Once visiting Charlston and Monks House, I recognised the power of the interior for connecting the audience with the individuals who lived there. I enjoyed the idea that whatever their hands touched had meaning which was disconnected from the commercial value of the item. So, I decided to come up with my own spaces and would then invent the characters who existed in these spaces.
Can you tell me more about your interest in interiors being portraits of people?
If you put a person in a room, the eye is drawn to the person. By removing them you immediately look at the objects to find meaning. By doing this, you are inviting the viewer to think about the room and who might own it or why the objects in the room are there. It allows the viewer to engage with the work where they have the freedom to make up their own story. I put Mattise in one of my early interiors, for example. Although the painting worked in the composition, I felt it fought with the interior because it was too well known.
As a result, I began to look at Modern British art works. I was gifted a number of catalogues from a curator at the Tate of Modern British painting from the last 25 years of auction sales. This is when I realised how little women were included in the canon of art history. So, I began to research female British artists. Once I found one, Jessica Dismorr or Helen Saunders for example, I would discover more. I realised that the women were there, participating actively and often well renowned for their achievements but once gone, the art historians decided to erase them and their impact in the history of art. If you hadnt labled the works you would not have known whether a painting was by a man or women: the subject matters and quality of the work were the same (apart from, perhaps, the quantity given the domestic duties of a women). So, as a form of restitution, I placed these womens images in the paintings to celebrate their talent and achievements.

Can we talk more about your exploration into story-telling - is it personal stories/stories of your creative influences, e.t.c
My imagination can run away with the areas I know of London, which allows me to create these stories. I put myself within the narrative and I think about what I would have around me. I create a fantasy world which gives me a framework to think about how I would be if I was someone else. Ultimately, this offers an escapism from my own life - being presented with new possibilities.
Following on from the previous question, if the composition is void of people, it also allows the viewer to imagine more easily what their life might be like within that interior/setting.
Can you tell me about the importance and relevance of light and dark in your compositions? 
In order for my work to not seem like an architectural drawing, there are certain elements I include: be it lighting or the position of the furniture, for example, that separate it from becoming a totally accurate, detailed depiction. Ultimately, there has to be a level of artifice. I keep a mental scrapbook and, when I can, take images on my phone of different lighting to inspire my work. There is artistic licence in the fact I need light and dark - while you can't see the two in reality together - the overall painting needs different simultaneous light sources to make sense of the composition. As a result, I enjoy playing with light in my work. For example, when I am painting moonlight, it creates a personality - it is something living that I introduce to the composition instead of a figure.
Can we talk about the architectural settings that inspire you?
I think of homes as shelters, generally authored by women - a place of refuge, solace, where people come back to restore themselves - or perhaps not. There is something about the physicality of where you live, its architectural setting, that can affect you so profoundly. What is it about these places? Why do they have such an impact on us?
When it comes to the autobiographical nature of these works, I want to show positive places of refuge. As mentioned before, I use my interiors as a form of escapism. As a women, and a mother, I find solace in creating spaces which offer a moment of suspended peace and calm, void of the reality where a tidlewave of domesticity demands your attention.
What draws you to certain colours? How do you decipher between oil paint/watercolour?
I use very thin paint on the oils, and thick gouache for the waterbased works. So, I paint both in similar way but with different mediums. I would love to be as retrained as someone like agnes martin but I get carried away! I have tried to be more muted/use certain groups of colours but it doesn't seem to be the point in my work. Colour is a good way for me to express emotions - helps to explain the mood in the painting. I enjoy the fact colour shines through my work. With the thin layers, it is possible to read multiple colours as the same time, which helps to give it life.